More Southern Beauty
21 Day South Island Tour
More Southern Beauty
This 'Unique' tour has been especially tailored for our frequent travelers. Broaden your South Island experiences and truly appreciate all that the South has to offer. Prepare to relax with great meals, comfortable accommodation, stunning scenery, and the interesting and informative commentary you know and love from our fantastic team. We know you'll love it- and you'll never see New Zealand the same again.
Tour Details
Tour More Southern Beauty
Days 21
Meals Breakfast 20, Dinner 20
TOUR DETAILS
Tour: More Southern Beauty
Days: 21
Meals: Breakfast 20, Dinner 20
---
DAY  1 – Palmerston North – Nelson D
Eager to get on the road and begin our More South Island tour, we wave goodbye to Palmerston North with an early bird departure of 5.00am arriving in Wellington for a morning ferry. Crossing the Cook Strait, through the Tory Channel we reach the harbour town of Picton, travel along Queen Charlotte Drive to Havelock. We continue on to Nelson for a city tour and arrival at our hotel at approx 4.30pm.
---
DAY 2 – Nelson – Cape Farewell – Takaka B + D
Today we head to the most Northern point of the South Island as we travel up the coast of the Tasman Sea to this glorious cliffed cape. Our guided sightseeing tour from Takaka to the end of the road at Cape Farewell, is a great way to appreciate the Golden Bay. Enjoy an exciting optional excursion to Farewell Spit and Light House. Reflect on the rugged beauty of this isolated splendour as the day draws to a close in Takaka.
---
DAY 3 – Takaka – Reefton – Greymouth B + D
Leaving the Golden Bay we travel over the hill for morning tea in Motueka then head along SH 6 through Tapawera on to Murchison for lunch. We stroll through Reefton before our last stop in Blackball with arrival in Greymouth at approx. 4.30pm.
---
DAY 4 – Greymouth – Arthurs Pass – Harihari B  +  D
Wave goodbye to the heart of the West Coast as we journey back inland to Arthur's Pass enjoying the spectacular lake views of Lake Brunner. Drive over the Otira Gorge road viaduct—a triumph of engineering. Hokitika is our lunch destination before we make our way to Harihari for our overnight stay.
---
DAY 5 – Harihari – Glaciers – Haast B  +  D
We journey to Franz Josef this morning where an exciting optional excursion is available to obtain a birds-eye view of Franz Josef Glacier with a spectacular scenic helicopter flight landing on the crisp snowfields. Take a short walk to a viewpoint for a closer look of the Glacier. Travelling on SH 6 we stop for lunch at Fox Glacier and a stroll to Lake Matheson before we head on to Haast for the night.
---
DAY 6 – Haast – Wanaka – Queenstown B  +  D
With a final farewell to the West Coast we travel along the Haast  River and traverse the scenic Haast Pass. Morning tea at Makarora before travelling along the shore of Lake Wanaka through The Neck and along the shore of Lake Hawea to Wanaka and Cromwell. Our afternoon is spent travelling through the rugged Kawarau Gorge to New Zealand's home of adventure tourism Queenstown.
---
DAY 7 – Queenstown B  +  D
Free Day or Optional Excursions.
---
DAY 8 – Queenstown – Te Anau B  +  D
Set against the tranquil Lake Wakatipu is the historic and beautiful 'Middle Earth' town of Glenorchy where we enjoy morning tea before returning to Queenstown for lunch. In the afternoon we travel through Kingston and Mossburn on the way to retire for the evening in Te Anau—the gateway to Fiordland.
---
Day 9 – Te Anau – Hollyford Valley – Return B  +  D
Enjoy one of New Zealand's most spectacular drives through Fiordland National Park—the largest national park in New Zealand. A visit to Gunn's Camp Museum in Hollyford Valley will take you back in time.
---
Day 10 – Te Anau – Invercargill B  +  D
Travel straight through to Invercargill this morning arriving in time for an early lunch. Experience one of our tour highlights with an optional excursion to Stewart Island, or feel free to explore the culture of our southern most city.
---
DAY 11 – Te Anau – Catlins – Alexandra B  +  D
Enjoy the coastal journey through the Catlins with a short stop at Curio Bay, then we continue on to Balclutha for lunch. Tour around historic Lawrence, travel on to Roxburgh town and dam before arriving in Alexandra for the night.
---
DAY 12 – Alexandra B  +  D
We take a lovely journey this morning from Alexandra visiting the historic town of Ophir then onto Clyde to view the township and dam. Have the afternoon to yourself and enjoy the sights and sounds of Alexandra.
---
DAY 13 – Alexandra – Central Otago – Dunedin B  +  D
Get ready to breathe the sea air again as we head east towards Dunedin, passing through St Bathans, stopping at the famous Vulcan Hotel before morning tea at Naseby. Enjoy the historical gold mining areas that Central Otago has to offer. Lunch in Ranfurly before making our way to Dunedin.
---
DAY 14 – Dunedin B  +  D
Otago is home to breathtaking sights and landscapes, enjoy a sightseeing tour of Dunedin this morning. Enjoy a free afternoon exploring Dunedin at your leisure.
---
DAY 15 – Dunedin B  +  D
Free Day or Optional Excursions.
---
DAY 16 – Dunedin – Christchurch B  +  D
Marvel at the views of the Pacific Ocean as we travel north towards Christchurch. Travel to Oamaru for morning tea and on to Timaru for an extended lunch break. Arrive in Christchurch around 5pm for a two night stay.
---
DAY 17 – Christchurch B  +  D
Free Day or Optional Excursions
---
DAY 18 – Christchurch – Hanmer Springs B + D
We take a city tour before we leave Christchurch and make our way slightly inland. A surprise awaits you before our arrival in Hanmer Springs. Afternoon is free to familiarise yourself and take in the surroundings.
---
DAY 19 – Hanmer Springs B + D
Free day or a optional day excursion of Molesworth Heritage Day Tour departing at 8am returning at 5pm.
---
DAY 20 – Hanmer Springs – Lewis Pass-Picton B  +  D
On the home stretch, we make our way to Picton, via Lewis Pass. The Pass is home to gorgeous views of the Southern Alps and forestry. The journey on to Picton leads us through Kawatiri to Lake Rotoiti and onward to the spectacular views of the Pacific Ocean, something to treasure as our time together draws to a close.
---
DAY 21 – Picton – Wellington – Palmerston North B
Board the ferry in Picton as we bid farewell to the stunning south. Disembark in Wellington and return to Palmerston North with memories, photographs and new friends to treasure.
All coach travel
Accommodation (max 2 share, upgrades available)
All dinners, 2 course or buffet
All breakfasts
Good quality hotel accommodation
Expert and friendly tour manager with local knowledge
Tour Commentary
Plus many surprise stops on the way.
Upgrade your accommodation to a private room – $1,300
Many exciting optional excursions, contact us for the list.
Car Storage  – Palmerston North
Book accommodation before and after your tour
All accommodation is selected for comfort, convenience and value for money. If you require accommodation before and after the tour in Palmerston North, please contact the Unique Holiday Tours office. All rooms twin share with private facilities.
| | | |
| --- | --- | --- |
| Nelson | Beachcomber Motor Inn | 1 night |
| Takaka | Mohua Motels | 1 night |
| Greymouth | Kingsgate Hotel | 1 night |
| Hari Hari | Hari Hari Motor Inn | 1 night |
| Haast | World Heritage Hotel | 1 night |
| Queenstown | Holiday Inn | 2 nights |
| Te Anau | Fiordland Hotel | 2 nights |
| Invercargill | Kelvin Hotel | 1 night |
| Alexandra | Centennial Court Motor Inn | 2 nights |
| Dunedin | The Victoria Hotel | 3 nights |
| Christchurch | The Garden Hotel | 2 nights |
| Hanmer Springs | Drifters Inn | 2 nights |
| Picton | Beachcomber Motel | 1 night |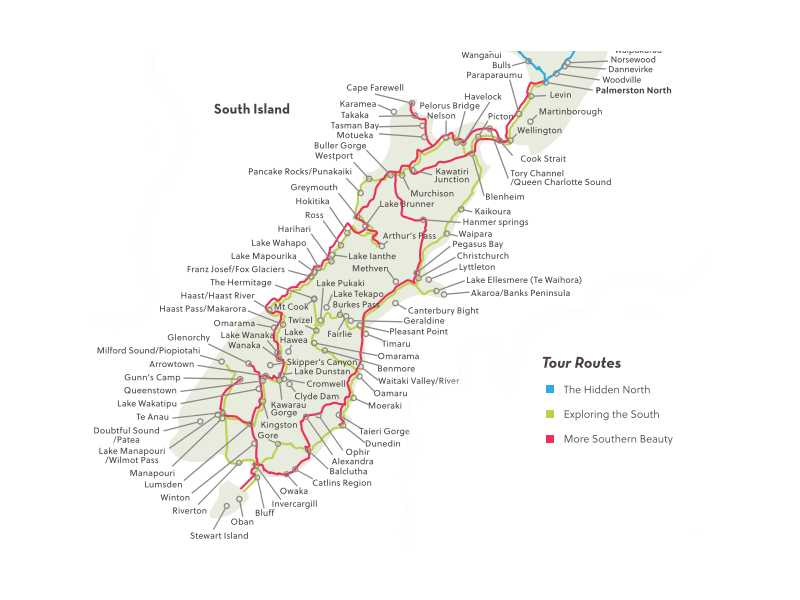 2018/2019
PRICE/PERSON
SINGLE SUPP.
14th Oct – 3rd Nov 2018
Not Available
Not Available
        Book Online
          Easy and stress-free to book your getaway